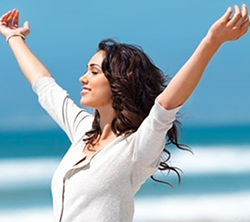 WEAKNESS CAN AFFECT ALL OF US IN LIFE!
Pelvic floor weakness can occur in women at any stage in life. Weakness may result from everyday strains such as chronic coughing or back pain, or from trauma such as pregnancy, childbirth or surgery. Other factors such as repeated heavy lifting in house-hold activities, ageing or menopause or being overweight can also result in pelvic floor dysfunction.
SYMPTOMS OF PERINEAL MUSCLE WEAKNESS
Minor leakage of urine can happen when coughing, sneezing or while lifting activities.
A feeling of a bladder which never empties fully.
Getting up throughout the night more than once.
Urgency – unable to hold urine.
Compromising your oral intake due to increased frequency of urine.
An intense feeling of pressure within your pelvis.
Perineal muscle weakness can lead to lower back pain.
ACTION REQUIRED
Incontinence will not go away unless you act…now!
Research has shown two third of patients reported significant improvement in symptoms when they followed perineal muscle strengthening exercise programs.
Our Physio team will ask you questions during initial assessment which is followed by a tailor made exercise program with a set of precautions to be followed by you.