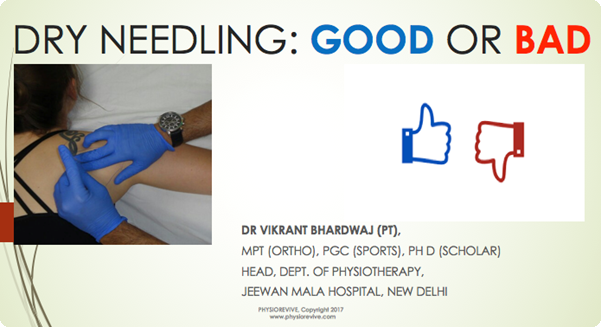 DN techniques can be easily and seamlessly integrated into a physiotherapist's existing skillset and enhance their clinical effectiveness, as well as broaden the range of conditions that they can treat effectively.
Application of needling techniques places much less strain on the therapist's body than manual therapies and many patients will request acupuncture and DN as part of their musculoskeletal treatment.
HAS MENTIONED GUIDELINES FOR THE DN PRACTICE.



Dry needling is included in the list of manual therapy techniques in the Guide to Physical Therapist Practice 3.0.
"Dry needling is the number-one scope of practice battle facing the profession of physical therapy," says Justin Elliott, director of state government affairs at APTA.
Dry needling was added to the physical therapy practice acts to about 37 states and the District of Columbia the total number of jurisdictions within which dry needling has been confirmed to be within PTs' scope of practice. Still, many challenges remain.
Acupuncturists have opposed the use of dry needling by PTs, charging that PTs are practicing acupuncture, are unqualified to do so, and are a risk to public safety.



In INDIA, there are no well defined mention of DN, except about injection & it is mentioned:
Only a registered medical practitioner can give injections/ inject a drug but DN is not injecting a drug.
GLOBAL VIEW:
"Health care education and practice have developed in such a way that most professions today share some procedures, tools, or interventions with other regulated professions. It is unreasonable to expect a profession to have exclusive domain over an intervention, tool, or modality."