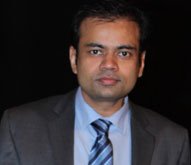 DR. VIKRANT BHARDWAJ (PT)
Ph.D SCHOLAR, MPT (ORTHO.), PGC (SPORTS)
MEMBER, AMERICAN COLLEGE OF SPORTS MEDICINE
MEMBER, INDIAN ASSOCIATION OF PHYSIOTHERAPISTS
MEMBER, DELHI COUNCIL OF PHYSIOTHERAPY
A qualified physiotherapist with more than 14 years of clinical experience in Physiotherapy. He has done Masters of Physiothrapy, MPT in Orthopedics & Post Graduate Course in Sports Physiotherapy. Now pursuing Doctorate (Ph.D) from M.R.I.U.
He is a member, American College of Sports Medicine. He is India's first Physio who completed All Advanced Levels (Level 1,2,3) in Dry Needling. Possess an experience & in-depth knowledge of Dry Needling in treatment of ortho-sports conditions. Has represented the country at international conferences & conducted various Courses & workshops across India & South East Asia including Malaysia, Indonesia, Bangladesh & Sri Lanka.
In June 2016, conducted first Dry Needling Workshop in Europe (at London, U.K.)
He has introduced Dry Needling as a Physiotherapy tool in India to treat various musculoskeletal conditions. Pursuing an excellence in the arena of Physiotherapy by updating the knowledge & learning new skills. Conducting Research & regularly presenting it various occasions / seminars.
With a mission to propagate the knowledge & skills of Dry Needling technique, he is regularly conducting low cost Dry Needling Courses in New Delhi, across INDIA & SOUTH EAST ASIA.
First in South East Asia to start conducting Advanced Dry Needling Courses with Real Time Ultrasound Imaging (RTUI).