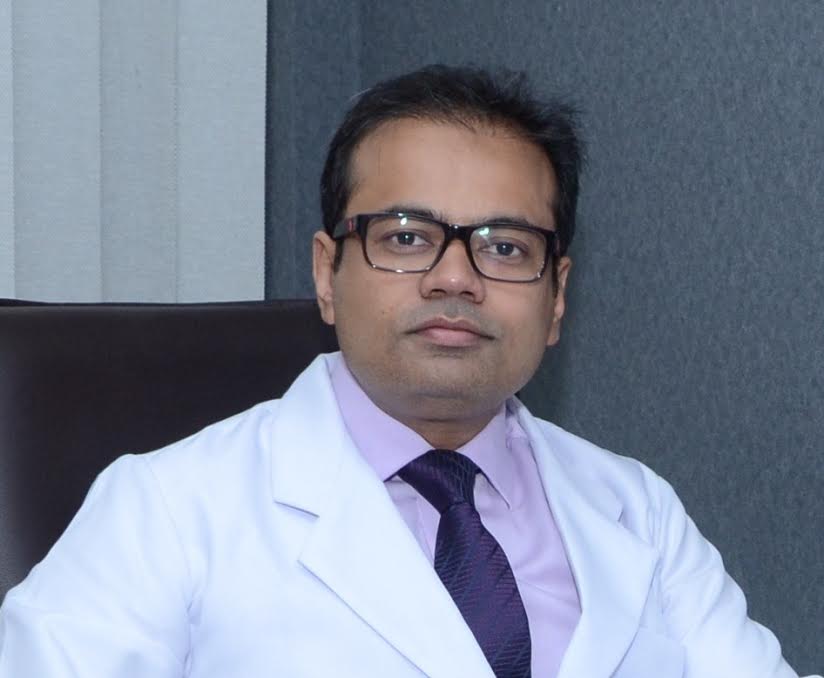 DR. VIKRANT BHARDWAJ (PT)
Ph.D SCHOLAR, MPT (ORTHO.), PGC (SPORTS)
MEMBER, AMERICAN COLLEGE OF SPORTS MEDICINE
MEMBER, INDIAN ASSOCIATION OF PHYSIOTHERAPISTS
MEMBER, DELHI COUNCIL OF PHYSIOTHERAPY
HE IS FOUNDER & DIRECTOR OF CHAIN OF ADVANCED ORTHO-SPORTS PHYSIOTHERAPY CLINICS NAMED "PHYSIOREVIVE", LOCATED AT JEEWAN MALA HOSPITAL, NEW DELHI & VASANT KUNJ, NEW DELHI. HE IS ALSO DIRECTOR OF P.R.I.D.E. (PHYSIOREVIVE RESEARCH INSTITUTE OF DRY NEEDLING EDUCATION). A QUALIFIED PHYSIOTHERAPIST WITH MORE THAN 16 YEARS OF CLINICAL EXPERIENCE IN PHYSIOTHERAPY, ALSO WORKING AS A HEAD, DEPT OF PHYSIOTHERAPY & REHABILITATION AT JEEWAN MALA HOSPITAL, NEW DELHI INDIA.
HE HAS SUCCESSFULLY TREATED MORE THAN 3000 PATIENTS (DOCUMENTED CASES) WITH DRY NEEDLING. HE IS REGULARLY TREATING PATIENTS IN HIS OPD.
HE HAS CONDUCTED VARIOUS DRY NEEDLING COURSE/ WORKSHOPS TO ENHANCE KNOWLEDGE & SKILLS AMONG PHYSIO- COMMUNITY, ACROSS INDIA.
HE HAS COMPLETED HIS BACHELORS OF PHYSIOTHERAPY IN 2001 FROM SANTOSH MEDICAL COLLEGE, U.P. & HE ALSO COMPLETED CERTIFICATION COURSE (C.C.S.P.) IN SPORTS PHYSIOTHERAPY FROM I.P. UNIVERSITY DELHI IN 2009, FOLLOWED BY HIS MASTERS IN ORTHOPAEDICS (M.P.T.) IN 2011.
IN 2012, HE COMPLETED ALL 5 MODULES OF DRY NEEDLING COURSE FROM "CLUB-PHYSIO" S.A. & REGISTERED AS A DRY NEEDLING PRACTITIONER IN INDIA FROM DRY NEEDLING INSTITUTE.
IN 2013 HE HAS COMPLETED ADVANCED LEVEL (LEVEL 3) CERTIFICATION IN DRY NEEDLING FROM GEMT AUSTRALIA. BECAME THE FIRST INDIAN PHYSIO TO COMPLETE ALL 3 LEVELS OF DRY NEEDLING.
HE IS A FIRST PHYSIO FROM INDIA, WHO IS DOING RESEARCH & PURSUING PH.D. IN THE SUBJECT OF 'DRY NEEDLING'. HE IS INDIA'S FIRST PHYSIO WHO COMPLETED ALL ADVANCED LEVELS (LEVEL 1,2,3) IN DRY NEEDLING FROM GEMT (AUSTRALIA).
HE IS THE FIRST INDIAN PHYSIOTHERAPIST WHO COMPLETED CERTIFICATION IN "MSK (MUSCULOSKELETAL) ULTRASOUND IMAGING" FROM S.M.U.G. LONDON, UK.
POSSESS EXPERIENCE & IN-DEPTH KNOWLEDGE OF DRY NEEDLING TECHNIQUES IN TREATMENT OF VARIOUS NEURO-ORTHO-SPORTS CONDITIONS. HE IS A MEMBER, AMERICAN COLLEGE OF SPORTS MEDICINE, USA.
HE HAS REPRESENTED THE COUNTRY AT INTERNATIONAL CONFERENCES & CONDUCTED VARIOUS WORKSHOPS ACROSS INDIA & IN SOUTH EAST ASIA INCLUDING BANGLADESH, SRI LANKA, INDONESIA, MALAYSIA & AFRICA (ETHIOPIA).
RECENTLY PRESENTED ONE OF HIS SELECTED RESEARCH PAPER AT WCPT CONGRESS 2017 IN CAPE TOWN, SOUTH AFRICA.
IN JUNE 2016, CONDUCTED FIRST DRY NEEDLING WORKSHOP IN EUROPE AT LONDON, U.K.
IN 2016, HE WAS INVITED BY GEMT AUSTRALIA TO ASSIST THEM IN THEIR COURSES & HIS EFFORTS WERE ACKNOWLEDGED BY THE ROBERT DI NADRIS, DIRECTOR OF GEMT AUSTRALIA.
SINCE LAST 5 YEARS, REGULARLY CONDUCTING DRY NEEDLING COURSES IN INDIA & ABROAD. AFTER CONDUCTING SEVERAL TIMES ADVANCED LEVEL 2 DRY NEEDLING COURSE WITH REAL TIME ULTRASOUND IMAGING (RTUI) IN INDIA, RECENTLY CONDUCTED FIRST TIME IN SOUTH-EAST ASIA (IN JAKARTA, INDONESIA).